QUALITY STANDARTS
Kudret Tugla A.S. (Brick Co.) (Quality Documents)
Bricks manufactured by are being controlled by laboratories approved by Turkish Standards Institute and all the products are being manufactured at high quality standards within the frame of ISO 9001 Quality Assurance System Standards. The quality levels of our products is approved by the CE certificated received from Turkish Standards Institute.

Documents
Kudret Tugla A.S. performs production at Category I / System 2+ quality level.
The dimensions, weight, pressure resistance and other features being the quality matters of all the products are controlled regularly at laboratories within the body of Kudret Tugla A.S. by using experiment devices and methods conforming the CE norms.
OUR QUALITY POLICY: Kudret Tugla San ve Tic A.S. aims to be the leader of the sector on perforated brick production by its competitive price based on qualified product and customer satisfaction. It is possible for us to reach our intentions by continuous improvement with our well trained and qualified staff. Efficiency, sustainability, work safety, staff and customer satisfaction is the principle on all our activities.
Thermal Conductivity Values for TS 825 (2008)

Thermal Conductivity Test Results


TS EN 771-1 Standart Documents (5 Pages)

ISO-9001: 2008 Document:
Kudret Tuğla AS. had ISO-9001:2008 Quality System Certificate since 2004.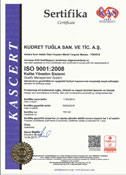 Quality Documents of Turkish Standart Institution(TSE)

| | | |
| --- | --- | --- |
| TS 1261 Hollow Blocks | TSEK ADK Carrier Hollow Blocks | TS EN 998-2 "Leightweight Mortar" |
| Print | Print | Print |