PRODUCTS - Clayfix (Lightweight Mortar)
ClayFix® Heat Isolation Mortar (Leightweight Mortar)
ClayFix® Heat Isolation Mortar is used while the bricks are being laid. Within the mortar mixture there are blasted pearlite, grinded brick aggregate, lime and cement in specific amounts. They are presented to market in packs of 25 Kg. in accordance with TS EN 998-2 Standard.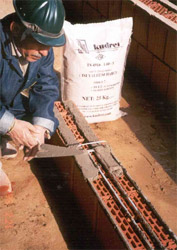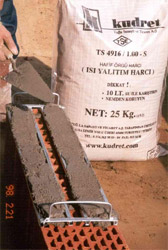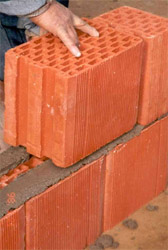 ClayFix® is the registered brand of Kudret Tugla A.S. It is the first company that had manufactured brickwork mortar in accordance with the TS EN 998-2 European Standards in Turkey.
ClayFix® Heat Isolation Mortar improves the Heat Transmission Coefficient of the element used as wall material by %22. As ClayFix® can be used by brick blocks, it can also be used by other wall blocks and creates an improvement on the Heat Isolation Coefficient with the same rate. (See. Table TS 825 "Heat Isolation Rules on Buildings" Annex-E) i.e.: Gas concrete Blocks, Pumice Block etc.
The most significant feature distinguishing it from normal mortars is not having sand in its content and being composed of light aggregates. The dry density of set heat isolation mortar ClayFix®' is 980 Kg/m3. The consumption of the mortar depending on the thickness of the used brick is shown in the following table.
ClayFix® Mortar Consumption Table


| | |
| --- | --- |
| Wall Thickness | ClayFix® Mortar Consumption(Kg/m2 ) |
| 11,5 cm. | 4,5 |
| 15 cm. | 6 |
| 17,5 cm. | 6,5 |
| 19 cm. | 7 |
| 20 cm. | 7,5 |
| 25 cm. | 9 |
| 30 cm. | 10 |
| 38 cm. | 12 |
Preparation of ClayFix® Mortar: The only material required to prepare ClayFix mortar is water. Mixing each pack separately with water ensures the mortar not to freeze before usage. The amount of water to be added to mortar packs of 25 Kg. is approximately 12 liters. It is more appropriate to place this amount of water into the mixture container and then starting to mix by pouring the powder mortar. The processing period of mortar is 75 minutes. The first setting takes place after 7 days. And the main set is received on the 28th day
By using the ClayFix mortar it is possible to save from labor and material and unnecessary consumption of materials such as sand, lime and cement. Meanwhile the contribution to environment shall also be considered.

WHEN YOU BUY CLAYMIX BRICK CLAYFIX LIGHT WEIGHT MASONRY MORTAR IS DELIVERED FREE OF CHARGE ACCORDING TO CONSUMPTIONS GIVEN ON THE TABLE
AND OF COURSE DO NOT FORGET TO ASK FOR YOUR MORTAR CRADLE USED FOR APPLICATION...!!!
Claymix® "Porous Thermal Brick" and Clayfix® "Thermal Brick Mortar" APPLICATION DETAILS
Lightweight Mortar (LM)

Typ ( EN 998-2): 1.0 -Lightweight Type

Order Code: IYH

Usable Period: 75 sec..

Compressive Strenght: Category of M:2,5

Density: 980 kg/m3