PRODUCTS - Kudret Ekotugla (EKOBRICK)
KUDRET Brick Co. With R & D work, keeping in the forefront of the industry's most important needs of our customers also in line with the demand has created a brand new product.Patents that belong to our company and built a wall of bricks and reorganize the way the system will meet all your needs in the wall structure was designed in nature.
ECOLOGICAL during both the production and use of this product in the same time to host the wrapping, the fee provided by our company and ease of workability due to the wall too ECONOMIC.
KUDRET EKOBRICK (Includes Insulation and Mortar materials)






Power Brick Co. with the production of documents belonging to the utility model and the application of this new product has the distinction of being a composite wall material. Here is the product of years of work experience and bitter ,Kudret

EKOBRICK !

2.5 cm in thickness and density of 16-18 EPS insulation plate which is supported by Kudret

EKOBRICK

, Clayfix 'Light Mortar' is being built with the mortar for walls and are offered free of charge.
The mortar strength is built next to our masonry master , Kudret EKOBRICK to help comb the free tuition drawing. In this way, without polluting the environment by providing a standard mortar high thermal conductivity value accounts further Improved.
Too easy to implement Kudret EKOBRICK . After clicking on the top brick mortar place. This is for ease of handling and very smooth vertical wall structure obtained .And also mortar joints need not be used.


That side of the wall from the view of processed bitter Kudret

EKOBRICK

. 5-7 mm mortar thickness and very regularly distributed around the Expandable Polystyrene .Outer protruding into the recess of the plate through the other vertical brick joints are eliminated from the heat bridges. In this way, account for the thermal conductivity with EKOBRICK is great.
Here is a finished wall by Kudret

EKOBRICK

. Expandable Polystyrene plaques on the brick columns in isolation can be provided by lengthening the column. The bricks are protruding outward processing in the horizontal plane due to the support beams to provide insulation does.
Kudret
EKOBRICK
is how to knit if you want to see it live at our video, click below
CE DOCUMENT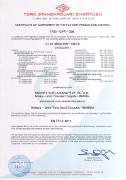 EKOBRICK 20

Type (Ts En 771-1)

: Category I LD

Weight (kg)

: 5 +0,25 kg.Mortar

Dimensions

: 25*20*14 cm.

Pressure Resistance

: 3 N/mm2

Order Code

: EKO20

Thermal Conductivity Value (λh)

: 0,15 W/mK

Wall Thickness

: 20 cm.

Density

: 700 kg/m3

Units Per m2

: 28

EKOBRICK 25

Type (Ts En 771-1)

: Category I LD

Weight (kg)

: 6,5 +0,5kg.Mortar

Dimensions

: 25*25*14 cm.

Pressure Resistance

: 3 N/mm2

Order Code

: EKO25

Thermal Conductivity Value (λh)

: 0,15 W/mK

Wall Thickness

: 25 cm.

Density

: 700 kg./m3

Units Per m2

: 28