PRODUCTS - Claymix (Lightweight Porous Bricks)
This product manufactured by our ClayMix® Brand has better heat transmission values than other vertically perforated bricks by its cellular structure.
Our honeycomb cell structured special design became a standard in this type of bricks.
For our clients purchasing ClayMix® product Clayfix® "Light Weight Masonry Mortar" and Mortar Cradle are delivered free of charge..!!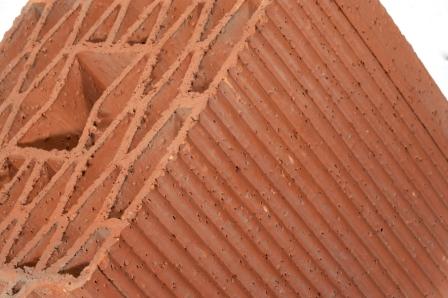 What is ClayMix® Brick?
Styropor granules mixed in the brick raw material melt after scouring of bricks at 9000C temperature. Thus porous cavities of 1-1.5 mm. diameter are obtained within the body of the brick. ClayMix® is the registered brand of Kudret Tugla A.S. No mortar is used on these surfaces as the bricks have interlaced vertical connections.

What are the benefits of meshes?
The Bulk Density of the Brick is reduced. Thus: 1-The heat isolation coefficient of the brick is improved by %11. In case of using ClayFix® "Light Weight Masonry Mortar" at TS 998-2 Standard and manufactured as 980 kg/m3 for the laying of bricks then the improvement on heat isolation coefficient reaches %33. (See: Table TS 825 "Heat Isolation Rules On Buildings Annex-E) 2- The load on the building brought by the brick reduces by %12.5. 3- Transportation cost of the brick to the worksite reduces by %12.5.

Solidity?
All the vertically perforated bricks have 3 times more pressure resistance than the alternative wall materials. Pressure resistance is 120 - 75 Kgf/cm2 (12-7,5 N/mm2). By its solidity these bricks contribute to the bearing system of your building, prevent the extreme bending of pillar and joists, save life during earthquake.

Is it sufficient alone in respect of heat isolation?
ClayMix® Bricks can be sufficient alone up to 3rd Thermal Region according to their thickness when they are used on the facing of the building. Additional isolation has to be made at 4th Thermal Region.
All the ClayMix® products are produced as an equivalent product with Europe at EN 771-1 Standard , W-Class(Multi Partition)
CLAYMIX SOUND INSULATION TEST RESULT
| | |
| --- | --- |
| CLAYFIX"LEIGHT WEIGHT MORTAR" and MORTAR TEMPLATE which will assist on walling | CLAYMIX"PORING BRICKS" Application of wall making. |
IMPORTANT....When CLAYMIX "POROUS THERMAL BRICK" is purchased
CLAYFIX "LEIGHT WEIGHT MASONRY MORTAR" and MORTAR CRADLE which will be your assistant on walling are delivered FREE OF CHARGE....!!!
Claymix® "Porous Thermal Brick" and Clayfix® "Thermal Brick Mortar" APPLICATION DETAILS
Technical Details for ClayMix® İns.Bricks

Diameters(cm)
Density
Amount of the hole
Heat Ins. Value by Normal Mortar
Heat Ins.Value by ClayFix® Light Mortar
Weight (kg.)
Unit/m2
Pose Number
24*11,5*23,5

700 kg/m3

5

0,24 W/mK
0,18 W/mK

4,5 kg.

16,5

04.018.İ08

24*15*23,5

600 kg/m3

8

0,23 W/mK
0,16 W/mK

5 kg.

16,5

Special

24*17,5*23,5

700 kg/m3

8

0,24W/mK

0,18 W/mK

6,5 kg.

16,5

04.018.İ10

29*19*23,5

600 kg/m3

11

0,23 W/mK
0,16 W/mK

7,5 kg.

16,5

Special

25*20*23,5

600 kg/m3

11

0,23 W/mK
0,16 W/mK

7,5 kg.

16

Special

25*25*23,5

600 kg/m3

13

0,23 W/mK
0,16 W/mK

8,5 kg.

16

Special

24*30*23,5

600 kg/m3

17

0,23 W/mK
0,16 W/mK

11 kg.

16,5

Special

24*30*23,5

600 kg/m3

21

0,23 W/mK
0,16 W/mK

12,5 kg.

21

Special
Weight can be change.(+,- 5%)
11,5 Claymix

Type (Ts En 771-1)

: Category II - LD

Weight (kg)

: 4,5

Dimensions

: 24*11,5*23,5 cm

Pressure Resistance

: 7,5 N/mm2

Order Code

: CMUL115

Thermal Conductivity Value (λh)

: 0,18 W/mK

Wall Thickness

: 11,5 cm.

Density

: 700 kg./m3

Units Per m2

: 16,5

15 Honeycomb Claymix

Type (Ts En 771-1)

: Category II-LD

Weight (kg)

: 5

Dimensions

: 24*15*23,5 cm

Pressure Resistance

: 7,5 N/mm2

Order Code

: CMUL150PTK

Thermal Conductivity Value (λh)

: 0,16

Wall Thickness

: 15

Density

: 600 kg/m3

Units Per m2

: 16,5

17,5 Claymix

Type (Ts En 771-1)

: Category II-LD

Weight (kg)

: 6,5

Dimensions

: 24*17,5*23,5

Pressure Resistance

: 7,5 N/mm2

Order Code

: CMUL175

Thermal Conductivity Value (λh)

: 0,18 W/mK

Wall Thickness

: 17,5 cm.

Density

: 700 kg/m3

Units Per m2

: 16,5

19 Honeycomb Claymix

Type (Ts En 771-1)

: Category II-LD

Weight (kg)

: 7 kg.

Dimensions

: 29*19*23,5

Pressure Resistance

: 7,5 N/mm2

Order Code

: CMUL190PTK

Thermal Conductivity Value (λh)

: 0,16 W/mK

Wall Thickness

: 19 cm.

Density

: 600 Kg/m3

Units Per m2

: 13,5

20 Honeycomb Claymix

Type (Ts En 771-1)

: Category II - LD

Weight (kg)

: 7,5

Dimensions

: 25*20*23,5 cm

Pressure Resistance

: 7,5 N/mm2

Order Code

: CMUL200PTK

Thermal Conductivity Value (λh)

: 0,16 W/mK

Wall Thickness

: 20 cm.

Density

: 600 kg./m3

Units Per m2

: 16

25 Honeycomb Claymix

Type (Ts En 771-1)

: Category II - LD

Weight (kg)

: 8,5

Dimensions

: 25*25*23,5 cm

Pressure Resistance

: 7,5 N/mm2

Order Code

: CMUL250PTK

Thermal Conductivity Value (λh)

: 0,16 W/mK

Wall Thickness

: 25 cm.

Density

: 600 kg./m3

Units Per m2

: 16

30 Honeycomb Claymix

Type (Ts En 771-1)

: Category II-LD

Weight (kg)

: 10,5

Dimensions

: 24*30*23,5 cm

Pressure Resistance

: 7,5 N/mm2

Order Code

: CMUL300PTK

Thermal Conductivity Value (λh)

: 0,16 W/mK

Wall Thickness

: 30 cm

Density

: 600 kg/m3

Units Per m2

: 16,5

38 Honeycomb Claymix

Type (Ts En 771-1)

: Category II-LD

Weight (kg)

: 12,5

Dimensions

: 25*38*19

Pressure Resistance

: 7,5 N/mm2

Order Code

: CMUL380PTK

Thermal Conductivity Value (λh)

: 0,16 W/mK

Wall Thickness

: 38 cm.

Density

: 600 Kg/m3

Units Per m2

: 21

Lightweight Mortar (LM)

Type ( EN 998-2) : 1.0 -Lightweiht Type

Order Code : IYH

Useble Period : 75 sec.

Compressive Strenght : Category of M:2,5

Density : 980 kg/m3